How Long Should I Keep My Tattoo Wrapped? Best Healing Tips
Usually, you should keep your tattoo wrapped for 2 – 3 days on average. Tattoos wrapped in Saniderm should be left on for 8 – 24 hours, while those covered with Cling Film or Plastic Foil should be wrapped for 2 – 4 hours. Second Skin wrapping can range from 3 hours to 10 days, and Protective Tattoo Film should be maintained for 3 – 4 days. Lastly, tattoos wrapped with Derma wrap should be left on for 24 hours. 
To solve your problem regarding the art design covering, we have shared a complete guideline in this article. Let's read it!
Key Takeaways
Using Plastic Foil, Cling Film, Saniderm, Second Skin, or Derma Wrap can take up to 24 hours, whereas protective film needs 3-4 days to heal.
Cling film or plastic foil requires minimum wrapping, but the second skin may even take 10 days of wrapping.
Different types of wraps have different time durations, so choose the one that suits your skin and tattoo best.
How Long Should I Keep My Tattoo Wrapped with Different Wraps?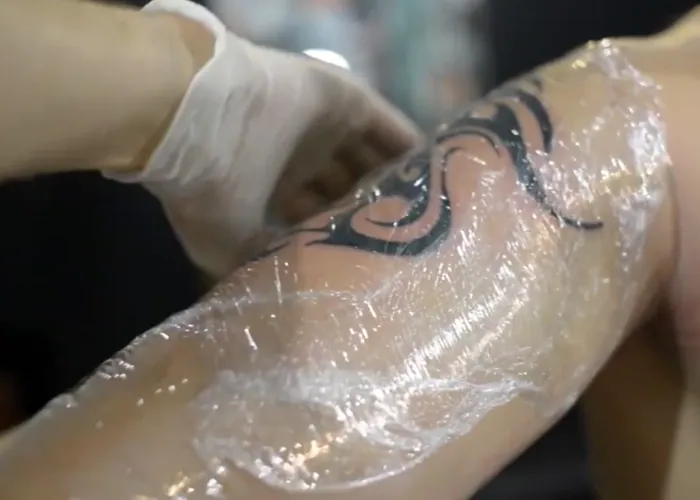 Protecting your new tattoo is really important during the healing process. It's crucial to know when and for how long you should keep it covered to take good care of it. As it depends on the wrapping product type, you must know the ideal time to keep them as required:
| | |
| --- | --- |
| Wrapping Type | Wrapping Duration |
| Wrapped in Saniderm | 8-24 hours |
| Wrapped in Cling Film/Plastic Foil | 2-4 hours |
| Wrapped with Second Skin | 3 hours to 10 days |
| Wrapped with Protective Tattoo Film | 3-4 days |
| Wrapped with Derma wrap | 24 hours |
You can now have the idea about wrapping duration for different types of material.
Why Should A New Tattoo Be Wrapped?
Wrapping a new tattoo in a germ-free bandage can effectively reduce the risk of infections. Wrapping the tattooing area will restrict the bacteria that affect the wound. This covering will allow moderate airflow through the tattoo surface. There are several benefits of wrapping a new tattoo:
You need not to worry about bleeding during the initial healing days.
It speeds up the recovery of your skin and helps to heal it faster.
It allows your new tattoo to get the air it needs.
You can take showers without worrying about your new tattoo as it's waterproof.
You can apply it at home without needing a professional's help.
What Happens if I Leave a New Tattoo Covered for Too Long?
Keeping your tattooing area covered for too long can cause infection. Further, it can block the flow of air through the tattoo surface. When your skin doesn't get enough fresh air, it takes longer to heal. This longer healing time can increase the risk of infection because the skin can't create a protective barrier when it's too moist. It usually takes two to three days to heal a wound. So, use the bandage for a limited time only.
To avoid this, it's important to change the bandage regularly, especially if it gets wet or too much blood or fluid builds up under it.
When Should I Wrap My New Body Art?
A new wound can be painful if it is accidentally rubbed up or hit into something. Also, there are chances that it can be exposed to body areas such as the shoulder, arm, etc., and cause pain. Contact of the tattooing part with unsanitary things can also cause infection.
So you can wrap your inked body area during the following occasions:
After Tattooing Session
After getting new ink, you should cover it. A professional tattooing artist is aware of it, but if not, ask the artist to cover your wound. Contact your tattoo artist in case of any unwanted emergency.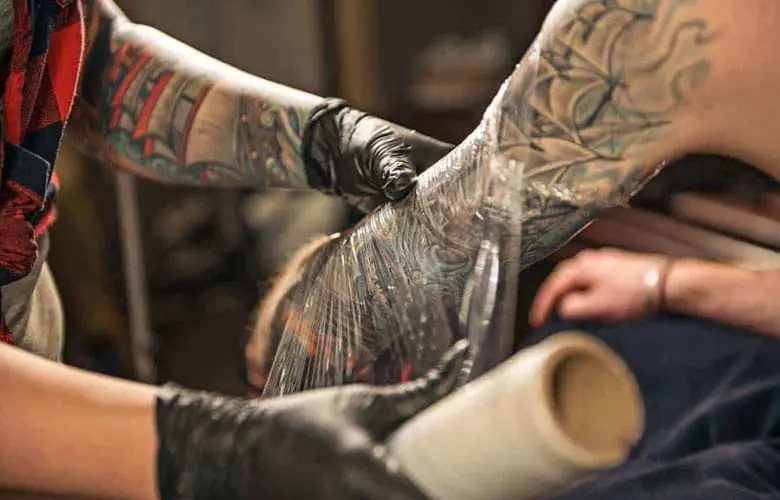 During Night
While sleeping with a new tattoo, an area of design might come in contact with the pillow, blanket, or bed linen. Due to this, the dust and bacteria can easily stick to the skin and result in an infection. The covering of the wound will keep it safe from such issues.
While sleeping, your ink design might come in contact with the bed linen. It can cause the sticking of germs and bacteria with body art.
Moreover, your tattoo can hit some solid object. Therefore, it is essential to wrap your wound with cling film or plastic wrap while sleeping.
During Playing or When in a Crowd
There is a greater risk of hitting your new body art on something when you are in a crowd or playing a sport. It can cause damage to the wound. Using a cling film and bandage helps in protection against such knocks and hits.
It's better to keep the body art from activities that can affect your body art.
When Wearing Tight Clothes
The tight clothes can grab the skin's edges and irritate the tattoo skin. It results in the ripping of the scabs. Therefore, wear clothes that don't irritate the wound. If wearing such clothes is necessary, you can cover the ink with a clean bandage to protect it against rubbing.
During Work
If you have a tattoo and you work in a dirty place, you should cover up your tattoo. If you do physical work, don't put too much moisturizer on the tattoo, or don't wrap it too tight so the air can flow easily. 
Wash the art design with scented-free soap and lukewarm water after removing the protective covering or wrap. Rub gently to remove any existing fluid. Then dry the wound with a towel.
How Often Should I Change The Tattoo  Bandage?
You must change your bandage at least two times a day. Cling films are used widely as a protective covering. They are cheap and available easily.
When your cling film builds up ink, you should change it. You can change the bandage by the following method:
Remove the existing covering.
Wash the tattooed area with lukewarm water.
Dry the area with a clean towel.
Put a new, clean bandage over the body art. If you use a cling film, use tape to adhere it well.
Frequently Asked Questions (FAQs):
Is It Okay to Re-wrap My New Tattoo?
It's not a good idea to rewrap your tattoo by yourself after taking off the original covering. It might not be as clean as a professional tattoo studio. If you wrap it by hand and it's not clean, bacteria can get in between your skin and the new covering. So, once you take off the first wrap, it's best to avoid touching it too much for the first two weeks until it heals.
What to Do If My Tattoo Wrap Comes Off Early?
If your ink wrap comes off early, do not try to stick it again. Carefully remove it. Then clean the wound area and place an alternate covering on the wound.
Can I Moisturize My Tattooing Area After Taking off The Wrap?
Yes, you can moisturize the tattooing area after removing the sidearm. Take proper aftercare of the ink body art until it completely heals.
Summary
Now you have the idea of how long you should keep your new tattoo wrapped. Though there is no specific time for all types of tattoos, you should cover it for up to three days at least. Wrapping a new tattoo will act as a barrier against dust and germs. 
As the new body art can get affected quickly, you should wrap it with a sterile covering. Change the bandage twice a day to keep your tattoo protected.