7 Best Rotary Tattoo Machines – Rotary Machine Reviews
Long hours of tattoo work make the tattooing job quite challenging. Even this process becomes harder with a bulky model. Like a coil machine due to its weight and size, making movement difficult.
However, Rotary tattoo machines have become increasingly popular in recent years due to their smooth and precise operation.
They are versatile and can be used for lining, shading, and coloring, making them a valuable tool for any tattoo artist.
Mainly, rotary models are the best solution for experienced and newbies tattoo artists. Because these machines are lightweight in design to hold steady to avoid hand cramps during the long inking process.
Also, these devices work at minimum vibration without creating annoying noise, unlike coil models.
Furthermore, portability, versatile usage, and affordable price are key factors that make these machines a preferred option.
In short, the best rotary tattoo machines have all the professional features essential for tattooing work. But, there are so many low-quality rotary models and each one doesn't have professional features.
However, by checking and reviewing different machines' durability, precision, and overall performance. I've prepared a guide that will help you to find the best one.
Best Rotary Tattoo Machines Reviews
1 Wormhole Cartridge Tattoo Kit for Beginners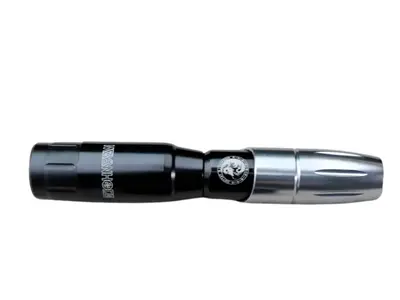 A wormhole is the best rotary pen tattoo machine designed for professional and beginner experts. And the machine and kit have the best features and accessories required for the tattooing procedure.
For example, the kit includes almost all the accessories to get started with new tattoo work, such as 40 cartridge needles, an RCA cord, cable, a 1-foot pedal, a pen, and a bandage.
This Ergonomically designed device has a lightweight pen that provides nice and comfortable gripping to do the tattooing job smoothly.
Because it is finished with metal grinding technology, which ensures the highest degree of natural grip to hold a tattoo gun for a long time.
in other words, the pen will not easily slip into your hands while transferring ink on the skin.
Overall, Wormhole pen-style tattoo machine is easy to operate and lightweight in ergonomic design, the perfect tattoo machine for lining and shading.
Well, the machine's body and the frame are made of aluminium alloy, which ensures a high level of wear resistance and durability for a longer time.
And also it keeps the device cool in continuous use. However, the installed motor is not highly reliable and sometimes stops working.
But still, it is a great ergonomic design tattoo machine and worth to invest.
Final Verdict: A wormhole is the best rotary tattoo machine for lining; that is lightweight and easy to operate, and overall the best rotary tattoo machine for beginners and professionals. And it comes with all accessories to get started tattoo job.
Reason to Buy:
Complete kit with all accessories
Super lightweight
Easy to operate
Best for professional and beginners
Easy to set up
Super cool pen
Reason to Avoid:
2 Mast Flip Rotary Machine
Mast brand is always great at producing the best inking device, whether a rotary or wireless tattoo machine.
This state-of-the-art machine has many premium features that will take your art skill to the next level.
And many tattoo artists who want more control and accuracy in tattooing work prefer this top-rated rotary tattoo machine.
Because it is built in such a way that provides a highly comfortable, smooth, and clean inking experience. But remember, the price is much higher than all others on the list.
In this lining rotary tattoo machine, a custom coreless motor is installed that is reliable and powerful. Also, the current is adjustable from 5v to 12v.
Plus, this wireless tattoo machine supports both modes, and you can run through a power cable or wireless via battery. However, you've to buy batteries separately.
But the best thing that makes it best wireless tattoo machine from other rotary machines is its multi-purpose stroke length, which can be used for different purposes like lining, shading, and colour picking.
For example, the Mast flip rotary machine supports six stroke lengths, including 2.6mm, 2.9mm, 3.2mm, 3.5mm, 3.8mm, and 4.0mm, and each stroke length is easily adjustable to get impressive results.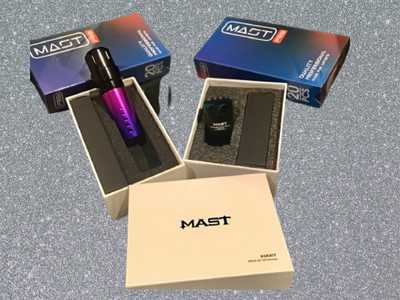 Final Verdict: If you need the best rotary tattoo machine for lining and shading with premium features, this is the perfect one.
Reason to Buy:
Six stroke length
Wireless mode
Premium features
Versatile machine
Compatible with all cartridge tattoo needles
Reason to Avoid:
Very costly
The battery is not included
3 Dragonhawk Extreme Rotary Tattoo Machine
I have included Dragonhawk rotary tattoo machines for those artists who are on a budget and need top-rated coil tattoo machines with all essential features at a low price.
And this one is the best Dragonhawk rotary tattoo machine that can be used for color picking, shading, and lining work.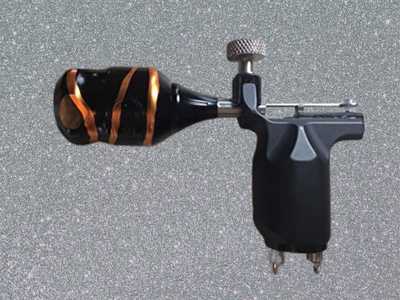 In this well-built ergonomic design machine, a Japanese-made motor is installed that is highly durable, strong, and stable in performance.
Plus, the machine provides complete control of current adjustment and allows setting voltage for different usages like shading and lining.
But I usually set the voltage on 7v for color picking and 8v for lining, which works best for me.
Furthermore, this liner rotary tattoo machine offers a durable and long-lasting 3.5mm stroke length and is super quiet in the inking process.
However, its weight is 6.17o which is quite bulky compared to other models.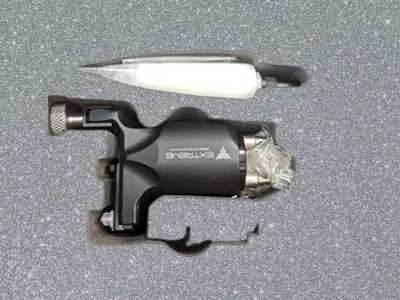 Final Verdict: Dragonhawk Extreme is a reliable and well-built machine. And it is the best rotary liner tattoo machine for budget users who need a quality multi-purpose, affordable device.
Reason to Buy:
Extremely affordable
Strong build quality
Reliable motor
Multi-purpose usage
Portable device
Reason to Avoid:
Heavy
Kit only includes a few cartridges
4 Hawick Rotary Tattoo Machine
This is the best rotary tattoo pen tattoo machine that consists of all premium and essential features.
And these include a powerful German FAULHABER Motor, aluminum alloy frame, smooth, quiet tattooing process, advanced bearing, RCA Cord connection, and adjustable voltage, perfect for new and as well experienced artists.
Hawick has an aircraft aluminum alloy enclosure and a 35mm sleeve, making it a lightweight device.
Plus, it helps to protect the device from heat-up and scratches. Additionally, it also provides a solid and comfortable adjustable silicone grip.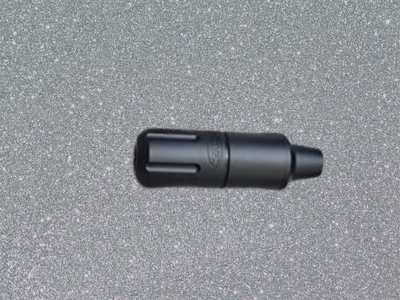 Along with other configurations, its hybrid tattoo pen is my favorite accessory in Hawink Rotary Tattoo Machine that works amazingly without hurting the skin. This pen gives comfortable griping in the hand that feels like you're holding an actual pen.
Plus, super quiet and has very low vibration in operation. Moreover, like Dragonhawk Extreme, it also has a 3.5mm stroke length.
Like other high-quality rotary tattoo machines, this one also allows setting operating current from 5v to 10v.
However, avoid running the motor for more than 10v; otherwise, the machine will get hot quickly, and as a result, it will cause quick mechanical wear and tear.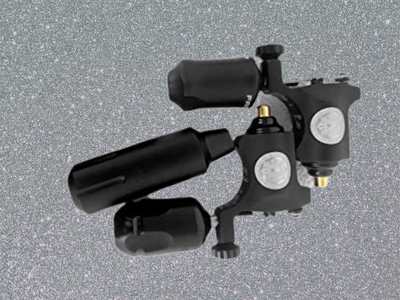 Final Verdict:  Decent performance rotary tattooing with premium features.
Reason to Buy:
Extremely work silently
Quality hybrid pen
Lightweight
Adjustable current
Robust and reliable German motor
Reason to Avoid:
5 ATOMUS Tattoo
Atomic is the cheapest pen-style rotary machine on the list, even cheaper than Dragonhawk Extreme Rotary (almost half in price). But being cheaper does not mean it has no essential tattooing features.
Even at a low price, ATOMUS Tattoo Pen has notable features such as a powerful motor, ideal stroke length, and lightweight, portable, Ergonomic design.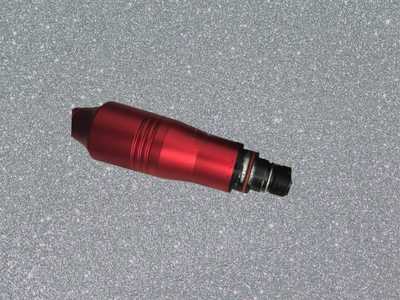 And a powerful motor is installed with Max 9000 RPM speed, which can be adjusted on different current voltages to do lining and shading work between 6-9V.
Moreover, a frame is made with zinc alloy, which ensures a long life span, good corrosion resistance, and strength. And also provides comfortable control and grip to hold steadily.
Furthermore, it includes a very smooth and reliable pen that works perfectly without making any horrible noise. However, some tattoo needles do not fit correctly.
So, you have to buy needles precisely that fit with this pen. Plus, the supported needle stroke length is 3.5mm.
Final Verdict: This ergonomic pen-style device is the best budget rotary tattoo machine right now.
Reason to Buy:
Extremely affordable
Lightweight and portable
Strong and sturdy frame
Valuable
Reason to Avoid:
6 Spektra Xion
Spektra Xion rotary tattoo machine is an excellent purchase for experienced and professional tattoo artists. It is the perfect rotary tattoo machine that artists can use smoothly to do multiple tattooing sessions.
And in terms of tattooing operation, FK Irons is a versatile machine for different techniques and styles. And it comes with an adjustable stroke length including 3.2mm and 3.7mm, which are reliable to perform everything.
Additionally, it is compatible with all needles and includes enough cartridges to practice on fake skin.
When My team and I tested the Spektra Xion rotary tattoo pen, they found it very convenient and easy to use. Plus, it is capable of running smoothly for extended periods.
Along with that, the machine can operate up to 9.5 volts. But, as an expert, I recommend not running the motor more than 9.5v for optimal performance.
Furthermore, it has a seamless grip and is lightweight, making it feel comfortable during a long tattooing session.
Final Verdict: It's worth buying, and you'll have no problem with it. A powerful tattoo machine.
Reason to Buy:
Comfortable grip
Compact and lightweight
Adjustable hit and stroke
Versatile machine
Reason to Avoid:
Not suitable for beginners
 Very costly
7 Stigma Rotary Tattoo Pen
The stigma rotary tattoo pen has dual benefits because it is a suitable rotary pen tattoo machine for beginners and as well professional tattoo artists.
And it comes with a complete rotary tattoo kit that includes gloves, needles, cables, ink, fake practice skin, and the whole shebang.
Let's speak about its motor; the 10w motor is very powerful with stable performance and runs smoothly and quietly.
As a result, it will not distract your attention while creating a tattoo. Also, the motor will not heat up, so you can work longer without worrying.
What is more? The kit includes five high-quality color inks, new disposable silicone grips, and fake practice skin.
As a beginner, practice is necessary to improve your tattoo skills. However, you can not use that ink on actual human skin because it is not professional-level ink and ink will fade up quickly.
Additionally, this professional rotary tattoo machine includes slider technology that makes the machine needlework smoother. Its tips are the best disposable ones, which will help you bring your imagination to the real world.
Overall, the STIGMA pen is straightforward and beginner-friendly, which is its real selling point.
Final Verdict: Overall, the product is excellent for both beginners and professionals.
Reason to Buy:
Water-resistant
Cost-effective
Complete accessories kit
Easy to operate
Reason to Avoid:
The power supply does not have a voltage meter

Is a rotary tattoo machine better?
It's a matter of personal preference, settings, configuration, and features, which is best, a rotary or a coil tattoo machine. And both types of machines have their unique pros and cons.
But, Rotary tattoo machines are far better in different terms. For example, these machines are generally quieter and smoother than coil machines.
And some artists find them easier to use for long tattoo sessions.
 Rotary model devices are also often considered versatile tattoo machines, equally great for every type of body artwork. 

Is it easier to tattoo with a rotary or coil?
Some tattoo artists may find that rotary machines are easier to operate and run because they are generally quieter and smoother than coil machines. And they may be easier to hold for long tattooing sessions. 
On the other hand, some artists may prefer coil machines because these machines offer more power and speed. And can be used to create a wider range of line weights and shading effects.

Which rotary tattoo machine is best?
Mast Flip is the best rotary tattoo machine in my experience because this machine comes with many premium quality features and specifications. 
Conclusion
Rotary tattoo pens are becoming more popular in the tattoo industry. Because these machines are convenient and easy to operate.
And there are many other benefits to working with rotary tattoo machines. For example, these devices are excellent in portability, reliability, and maintainability compared to their coil counterpart.
However, each rotary pen has unique features; it can be hard to know which fits you best. And an ideal device should have all the necessary features to meet your demands.
My team of experts and I have contributed firsthand experiences and details of the best rotary tattoo machines. I hope this review helped you to find the best one.