5 Best Tattoo Machines for Lining – Perfect for Lining Work
Only the best tattoo machine for lining provides smooth and reliable functionality to create crips, beautiful and clean lines. But most tattoo machines in the market don't have essential features to get precise lines.
For example, an ideal tool for lining should have adjustable voltage, a comfortable grip, a powerful enough supply, and a perfect shape needle. 
 In other words, these things are required in tattooing devices to get fine lines. Because each feature has its importance.
For example, adjustable voltage provides complete control of speed, like how deep you want penetration on the skin. At the same time, a comfortable grip helps to hold the Machine steadily. 
On the other hand, a reliable power supply continuously provides proper current to the Machine. Moreover, needle shape and size are also crucial for lining the case.
Therefore, tattoo machines should have a small and shorter needle length to create perfect delicate lines.
Therefore, to help you, I have tested different tattooing tools and found some best tattoo machines for lining.
And the best part is each device has the required features and specifications. At the same time, their price is muchly affordable for everyone.
So keep reading this review to find the finest tool for lining according to your needs and requirements. 
top 3 Pick From List of Best Tattoo Machines for Lining
Review of Best Tattoo Machine for Lining
1 Dragonhawk Pro Tattoo Kit
Dragonhawk is always best for producing quality tattoo machines, and this tool is also a masterpiece from the same brand. Dragonhawk Pro has a decent quality all-around kit for those who want to start.
For example, it includes everything for a perfect start, such as 20Pcs cartridges needles, a power supply box, 1 Rotary Machine, an atom pen, and more.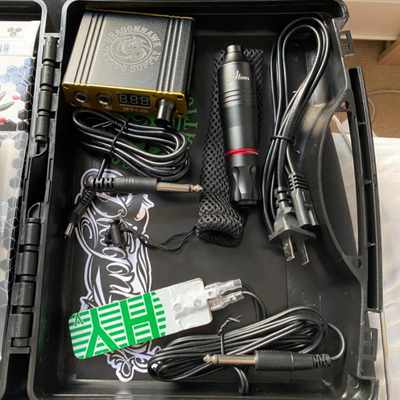 It includes an atom rotary gun that is awesome for beginners and experts to produce fine lines. It is especially excellent for lining and shading with a 3.5mm stroke length, which is great for creating smooth lines.
Also, this length is perfect for packing color and other makeup work. But not suitable for larger needles grouping, for that 4.0mm+ stroke is good to push larger lining groups. Furthermore, a gun is very comfortable to hold steadily. 
The Machine is equally strong, reliable, sturdy, and built with quality material to last longer without overheating.
Plus, Dragonhawk Pro is lightweight in design and easy to use for longer tattooing sessions at minimum vibration. Overall, Dragonhawk Pro Tattoo Kit is the best tattoo machine for beginners.
Final Verdict: A highly reliable machine with a lightweight design that comes with a decent-quality starter kit. Plus, it is also easy to use.
Reason to Buy:
Extremely lightweight
Easy to operate
Quite silent in operation
Decent quality starter kit
Excellent build quality
Reason to Avoid:
Poor quality ink
Most kit stuff is only suitable for practice
2 Mummy Wireless Rotary Pen
If you like wireless tattoo machines with premium-quality features, then Mummy Wireless Rotary Pen is perfect. This is battery operated Machine that operates in wireless mode.
And its design is premium quality and lightweight, super convenient to use for long tattooing sessions, making it an excellent choice for a tattoo artist who has a busy job. 
Mummy Wireless Rotary Pen is made with a high-speed Swiss Motor, which is powerful and durable in tattooing. It is capable to provides deep skin penetration without any snagging.
And such kind of machines provides the perfect balance for lining and shading. And in our testing, this Machine was super smooth and very fast in creating clean lines. 
In other words, the mummy rotary pen is the best tattoo machine for the lining. Voltage is also adjustable, just like a cinch. In addition, the Machine allows setting a minimum of 5v and a maximum of 12.
Plus, there is a clear LED display where you can see the current voltage and remaining battery.  
The battery has a large capacity (1800mah), which probably takes max 3 hours to get a full charge, and it will last quite a long. And according to the manufacturer, it can last 6 to 8 hours.
While in our testing, it also lasted up to 7 hours, so you can keep your mind in peach about the battery performance of this Machine.  
 Furthermore, it has a powerful and precise rotary pen that is impressive in pushing clean lines. And pen has a 3.5mm Stroke Length.
Plus, it is also compatible with a wide range of cartridge needles up to 4mm stroke length. 
Final Verdict: Mummy Wireless Rotary Pen is a wireless machine that has premium quality features. This tool is a perfect example of a portable tattoo with a longer battery time.
Reason to Buy:
Premium quality machine
Lightweight design
Extreme portable device
Longer battery performance
Excellent rotary pen
Reason to Avoid:
3 BRONC Premium Quality Tattoo Machine
Bronc is another best rotary tattoo machines for lining with some excellent features. It is made with aircraft aluminum, and its design is flawless. And the weight is just 154g, which is comfortable to hold and carry where you go.  
Like Mummy Wireless Rotary Pen, this Machine also has a highly reliable swiss motor, which is stable and consistent in performance. And it's built to last for a longer time.
Plus, the Machine does not create any noise and works with minimum vibration, creating a really smooth and comfortable tattooing experience. 
The best thing I like about Bronc premium quality tattoo machine is the shape of a pen, which makes the lining job smooth, easy, and quiet with minimum vibration.
And this pen is also an all-rounder performer, equally excellent for color picking, shading, and lining. 
Overall, the pen is decent in quality and has a 3.5mm stroke length, which is suitable for small line grouping. But for larger grouping, you can go with 4.00mm, which can push large-hitting strokes.
The good news is that the pen is also compatible with 4.00mm and 4.5mm stroke lengths. But cartridges are very loose in a grip that easily pops in and out.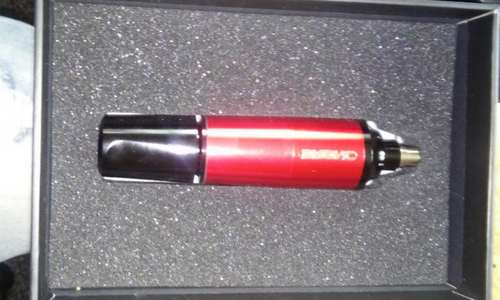 Final Verdict: Bronc is the perfect rotary tattoo machine with excellent all-around features for lining work. 
Reason to Buy:
Excellent pen
Extremely lightweight device
Durable and long-lasting swiss motor
Decent quality
Reason to Avoid:
Price is beyond the expectation
Very loose cartridges grip
4 Rattlesnake Rotary Tattoo Machine
The Rattlesnake Rotary Tattoo pen is another best wireless tattoo machines on our list. But its price is much lower than Mummy Wireless Rotary Pen with almost the same features.
This beautifully designed Machine is an installed japan-made motor, which runs smoothly and provides enough power for tattooing needs. But, it creates some annoying noise during running. 
The product's weight is perfect (only 179g), while the diameter and length of the Machine are 32mm and 124mm, respectively.
Thus, the Machine can easily grip and hold in your hands for longer tattooing hours. However, the setup of this device is a little tricky because Machine didn't come with setup instructions.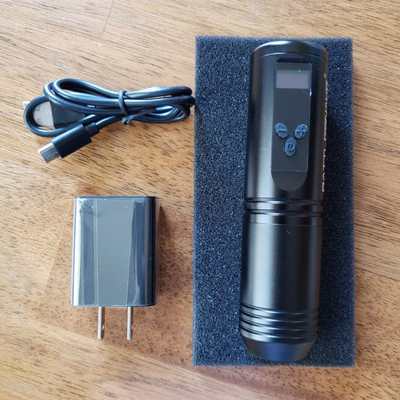 The product includes a decent quality pen, which is excellent for state-of-the-art. And pen itself is beautiful and super comfortable to hold like an actual pen.
And pen has a 3.5mm stroke length, which is super suitable for the lining, and it will create a solid tattoo that will not fade up quickly. 
Rattlesnake has a significant capacity battery life(1850MAh), and the battery's performance is pretty good.
Additionally, it comes with a USB-C cord that relatively provides super-fast charging. That will make the battery fully charge in a couple of hours, lasting up to 5 hours. 
Besides this, an LED display shows the remaining battery and current voltage. Moreover, the Machine allows you to increase and decrease voltage by pressing the plus and minus buttons.But for lining work, 5 to 7 voltage is perfect for fine lines. 
Final Verdict: This is another great wireless machine on the list. Rattlesnake has almost the same features as a Mummy Wireless Rotary Pen but it is cheaper than it.
Reason to Buy:
Battery-operated Machine
Lower price
Reliable motor
Super comfortable to use
Decent quality pen
Reason to Avoid:
A bit tricky to set up
Noisy
5 Coil Tattoo Machine
If you're on a tight budget and looking for the best tattoo machine for lining at an affordable price, then this one is perfect.
This Machine is configured with some serious high-performance specifications that are not available in another tattooing tool at such a price. These specifications provide fast and consistent performance.
 And this Machine is also capable of continuously running without being heated up with stable performance. Plus, it consists coper made 10 reliable wraps coils.
In addition, the Machine is made with an ergonomic design alloy frame that is super comfortable and easy to hold for a longer time.
In other words, in terms of portability and durability, this Machine is equally good, and that will lasts longer. On the usage side, it is equally suitable for wide applications.
For example, you can use it for lining, shading, color picking, and makeup work. So please don't wait to and this grab this best affordable Coil Tattoo machine. 
Final Verdict: If you're on a very tight budget or need an affordable tattoo device to get experience, don't look for any other.
Reason to Buy:
Low price
Some quality features at an affordable price
Durable Machine
Easy to use
Reason to Avoid:
Not suitable for professional-level work
Conclusion:
The best tattoo machine for lining helps to create beautiful crisp lines. But most tattoo tools only have some features that are required for linework.
Therefore, I shared some best one that has all the essential specifications to achieve desired results. And I hope this list helped you to find your preferred tattooing tool. 
The overview of this list is if you need battery operated wireless tattoo machine for lining, then Mummy Wireless Rotary Pen and Rattlesnake Rotary Tattoo Machine are two great examples of this.
Moreover, Dragonhawk Pro and BRONC are also great for taking your lining work to the next level. Apart from this, the last one on the list is the cheapest, perfect for those on a tight budget. 

What stroke is best for tattoo lining?
3.5mm and 4.00 mm are both suitable stroke lengths for the lining. 3.5mm is the average stroke length capable of providing enough power to create perfect lines, especially great for smaller lines.
And 4.00mm is ideal for creating solid, beautiful crips and lines. Also, 4.00mm is excellent for larger needle grouping.
Can I use one tattoo machine for lining and shading?
Yes, you can, and most tattoo machines have features to use for lining and shading art equally. But you've to set up a setting to achieve the desired linework. 
What voltage should I use for lining?
The voltage between 7 to 8 is perfect for line work.
How do you get a thick-line tattoo?
If you want to create thick lines, use the Machine with a large stroke length.
How far should a tattoo needle stick out for the lining?
This is hard to answer how long a needle sticks out because every person's skin is different. But it should be at least 1mm and not more than 2mm.
What size needle is best for line work?
0.35mm is the perfect needle size for lining work.
Can I use a shader needle as a liner?
A shader with a round shape can equally be used as a liner.