8 Best Wireless Tattoo Machines in 2023 Review & Guide
Wireless tattoo machines are a game-changer for professional tattoo artists. Because these machines offer excellent battery performance and smooth power control.
And they're also excellent in terms of portability and lightweight designs. Due to these features, wireless machines are perfect for tattoo artists on the go.
Furthermore, the best wireless tattoo machine is equally great for lining, shading, and all other tattooing work. The best option for those who want different varieties in their tattooing work.
Also, these wireless devices make the inking process easier and more comfortable. Because Wired devices with cords and cables make the movement quite difficult.
 However, not all wireless tattoo machines have similar features. An ideal device should have all the necessary specifications and features to meet your demands.
Therefore, my teammates and I tested and reviewed the 8 best wireless tattoo machines.
And this guide will highlight their features, pros, and cons. From long-lasting batteries and adjustable stroke lengths to compact and portable designs. My team covered everything. So keep reading. 
8 Best Wireless Tattoo Machines Review
1 Dragonhawk 1013-10
Dragonhawk 1013-10 is the top wireless tattoo machine for artists looking for the best Rotary wireless Tattoo Machine. Although, wireless machines are quite difficult to handle for newbies.
But Dragonhawk 1013-10 is a well-balanced device that is highly comfortable for beginner tattoo artists to hold easily.
Because this tattoo machine is made with an Aluminum frame that offers maximum strength and stiffness at a low weight (just 120g). Practically, a perfect comfortable grip, but you've to buy extra tape for grasping.
And its lightweight design not only makes it an excellent portable device but also easy to hold steady. Additionally, it is easy to set up and start the tattooing process.
Furthermore, Dragonhawk has a highly reliable and strong rotary motor and gear system. And it does not create any noise, even at higher voltage levels. And the motor is also capable of working smoothly at different voltage levels from 6V to 9V.
But I noticed the device got heated up after 30 minutes. Moreover, it comes with a complete tattoo kit.
Further, this Dragonhawk wireless Tattoo machine has no compatibility issues and is compatible with a wide variety of cartridge needles.
The affordable price makes it the best budget wireless tattoo machine for beginners. Even much lower than other top brands like Mast Archer and Ambition Soldier.
2 Mast Archer Wireless Tattoo Machine
Mast Archer has made a special position in the list due to the great features that an ideal wireless machine should have. It has an LED voltage screen, so you can easily see the voltage on the screen.
And also, voltage is more easily adjustable and controllable. But they need to improve the LED screen quality. It looks like there are some scratches on the screen (it is fair to say poor-fitted LED).  
Like Dragonhawk 1013-10, this tattoo tool has a durable and sturdy aluminium frame. Besides this, there is a CNC-carved shape of the frame. Well, the length of the Mast Archer is just 132mm, and its diameter is 32mm.
And weight is just 186g, which is more than Dragonhawk (a little bulky). But still, this machine is lightweight and convenient to use with comfortable gripping.  And it also comes with two extra grips, which you can use if it feels thick.
Let's speak about its battery performance, which is amazing. It can last up to 6 to 8 hours with continuous use.
In other words, you can complete multiple tattooing sessions on a single charge with its 2,000mAh battery. But if you set the machine to more than V8, you'll not get mentioned battery life. 
 Also, the battery is not replaceable, which will be a big problem. Suppose the battery is out of charge and you're away from a power source, then the only option is to find the socket and charge it; there is no option for a backup battery.
However, you've not had to wait for a longer time to get a full charge because it has a Type-c port that provides fast charging.
Additionally, Mast Archer has a built-in protection system that prevents the battery from overcharging, heating, and short-circuiting. 
Moreover, Mast Archer comes with a 3.5mm stroke length, which makes it the best all-around tattoo machine for linking and shading. But, 4.0mm is the ideal stroke length for linking.
Plus, the exceptional Mast coreless motor in the Archer machine provides 10500rpm speed for stroking without creating disturbance and noise.
3 Ambition Soldier Rotary Tattoo Machine 
Ambition Soldier is the best professional tattoo machine with some great features. This machine uses Japan-made Corless Motor that seems strong, reliable, and powerful for a longer time.
Plus motor run smoothly even at 9000RPM speed on 10V. Voltage is also adjustable from 5V to 12V, but 6V to 8V is the best for excellent performance. 
In case to adjust the voltage, press the plus and minus buttons to increase or decrease the voltage.
However, its power bank does not allow it to go below 5v. And but mostly I like to work on 4V during colour packing, stippling, and shading because I like to go at a slower speed. But, for speed wizards, still a great choice. 
Furthermore, Ambition Soldier is packed 1950mAh lithium battery, which is excellent in performance that can last hours. Also, the battery's performance depends on the voltage used; our testing lasted 10 hours on 9V. 
Also, the battery is replaceable, unlike Mast Archer, which has been fixed. But it is very heavy compared to other wireless machines, and the centre of gravity is also not centred. Not suitable for long working hours, as it can hurt the wrist. 
In addition, a bright LED screen shows the current voltage, usage time, and battery life. Further, the needle stroke length is 4mm, best for lining and colour packing. 
Read our full review: Ambition Soldier Tattoo Machine Review
4  Hawick Rotary Tattoo Machine
If you're on a tight budget and need a cheaper tattoo machine, this one will be the perfect option. Hawick Rotary Machine comes with all good essentials at a very affordable price.
And the price is much lower than all of the above, even though its cost is much lower than Dragonhawk 1013-10, which is the second cheapest on the list. 
The ergonomic, slim, and lightweight design is something special about this pen-style machine to create a new tattoo; perfect to hold for extended tattooing sessions easily.
Plus, it's emulating the grip; it feels like you're holding an actual pen, a smooth, lightweight, and comfortable experience. 
Further, a portable battery is installed, and you can connect the rotary unit with a power source through an RCA cable instead of wireless mode. The battery is swappable, and its excellent battery life can last up to 5 hours. 
Like other tattooing devices, it also allows the setting of voltage speed at differing levels from 7V to 11V. But you can not set it below the 5V; not a good option if you work at a slow speed.  
5 SAIKOYA Wireless Tattoo Machine
This rotary unit has almost the same features as Ambition Soldier and Mast Archer, like an LED display, advanced gear system, 12000 RPM speed, and longer battery life. But its price is much lower than both of these, almost half. 
SAIKOYA Wireless Machine is made with high-quality material such as CNC aluminium alloy. This material is highly reliable, durable, strong, and corrosion-resistant compared to pure aluminium. So you can expect this device to have a longer lifespan. 
Plus, it is formed in a lightweight design that is highly comfortable to hold for a longer time without hurting the wrist.
And also the perfect tattoo machine for lining and shading. But, the shape is a little bigger and not comfortable to hold with small hands. 
Furthermore, there is a digital LED screen for better display. With this display, you can see the current voltage being used and also the working time.
The motor is solid and durable, but its speed is special; it has 1200RPM on 12V, even higher than Mast Archer and Ambition Soldier.
On the battery side, SAIKOYA has the same battery storage capacity as Ambition Soldier, which can perform from 8 to 10 hours continuously with a single charge.
Also, the battery is swappable. Plus, the charger is rapid and fast in charging the battery. 
What is more, the stroke needle length is 3.5mm. And this medium stroke length is perfect and reliable for beginners. Also great for colour packing and shading. Overall, this is the best wireless rotary tattoo machine.
6 Dragonhawk Atom M4 Pen Machine
I recommended a Dragonhawk Atom M4 Pen Machine to one of my friends who was starting in this art world two months ago. Now, she has some ability to Improvise in tattooing work.
And I suggested this machine to my friends due to its beginner-friendly features. Like it is the best lightweight cordless tattoo machine for beginners. That has a complete kit that includes everything to get started with tattoo work.
Not only is it wireless, but also it does not need time to learn how to use it. It is simple to use, and you don't have to be a pro at creating tattoos. Especially perfect for newbies, you just need to plug in the battery and start your work.
Also, the kit includes 20 pcs of cartridge needles, enough for practising on fake skin, which is also included in the kit. Along with that, it has a comfortable grip, which is easy to hold and will help you focus on tattoo creation.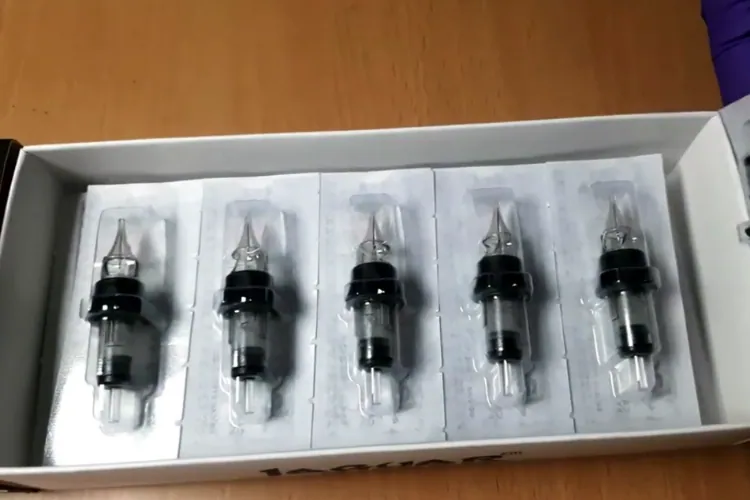 Furthermore, this device is made of an aluminium frame, so it is light in weight. Also, it includes a 4mm stroke length tattoo gun, made with an aluminium alloy carved frame that is highly reliable and long-lasting.
And this gun is pretty awesome for doing tattooing jobs like lining and shading. But, this is not great for doing some professional-level tattooing work.
What is more? There is a powerful and reliable motor installed. That operates at a minimum of vibrations and can run smoothly without being heated up for extended periods.
Additionally, motor performance is adjustable by setting the machine on different voltage levels from 6-8V.
However, it is not an excellent option for an experienced artist who likes to work at a fast speed. But overall, Dragonhawk Atom M4 Pen is the best tattoo machine for beginners.
Read the full review: Dragonhawk Atom rotary pen review 
7 Mast Lancer Pen Machine
Mast Lancer is an excellent choice for tattoo artists looking for professional wireless machines. This tattoo device comes with a reliable and powerful custom coreless motor that operates smoothly without noise and vibration.
At the same time, the coreless motor does not require maintenance. So you can use it for a longer time without any maintenance headaches.
Furthermore, Mast Lancer includes a versatile pen that is compatible with all sizes of cartridge needles. Additionally, the pen has an excellent grip that is easy to hold for a longer time. And this makes it perfect for beginners who don't have much experience holding a pen.
Plus, it also works softly and smoothly on the skin to transfer ink. As result, it will make the healing process quicker and more effective.
What is more? There is an LED display screen, so you can easily see the screen's voltage and remaining battery life.
Let's speak about battery performance, which is excellent in terms of performance. And it comes with two 1900mAh rechargeable batteries, which are easy to charge with faster-charging capability.
And it lasts up to 8 hours on continuous use without being heated up. Plus, the battery has built-in protection against overcharging and sudden power failure like short-circuiting.
Read our full review: Mast Lancer Tattoo machine review
8 Solong Cartridge Tattoo
It is not surprising that some people still want a tattoo device with all essential features at an affordable price.
And if you're on the same page, then a Solong rotary machine is what they should buy. Because it is the second cheapest machine on the list after Hawick Rotary Tattoo Machine.
Being affordable, Solong Cartridge Tattoo has many premium features. And these include a lightweight design, powerful motor, adjustable voltage, extended battery performance, and more.
On the usage side, this machine is versatile, and you can perform several other operations besides tattooing work like makeup and eyebrows. Plus, its pen is easy to hold, like you're holding an actual pen.
And it supports a 3.5mm stroke length, considered perfect and reliable for lining and shading. Additionally, the pen is compatible with all brands' needles.
Furthermore, a reliable and high-performer motor is installed that works smoothly for a long time without creating vibration and noise.
In addition, the voltage is adjustable from 7v to 11v. However, never run a machine with more than 11 voltage; otherwise, it gets hot during running.
No doubt, this device is highly reliable, but its battery seems loose in performance, and I experienced it randomly stopping working.
Best Wireless Tattoo Machine – Buying Guide
Looking at these essential things before buying Wireless Tattooing Device would be best. 
Battery Performance 
One of the main reasons for investing in Wireless machines is to be able to use a device without depending on a power socket. This makes the battery a vital component of the machine.
You don't want a battery that runs out of charge quickly. Regardless of battery quality, also some factors drain it so quickly, like setting the machine on high voltage. 
There are a few factors that you should look at regarding battery performance:
 Timing:
This is most important; it means what the average timing of the battery on continuous use is. And it should last at least 5 hours on a single charge; some machines like Ambition Soldier, Mast Archer, and SAIKOYA have longer battery life, which can last from 6 to 10 hours. 
Replaceable Feature:
It means the machine should have a swappable battery, which means it should not have a fixed one.
Because if the tool has a fixed battery, you can not use an extra or backup battery to keep your work going. In such a case, the only solution is to find a power source and charge the battery. 
But if you frequently use the machine outside (away from the electric outlet), then always go with a machine that has a replaceable battery option.
Further, some devices have two modes: they work with and without a battery (through an RCA cable).
Fast Charging:
 This means how fast the battery will fully charge. Most wireless machines come with a Type-c jack, which provides much faster charging than standard charging technology.
But not all USB-Cs have high Power Delivery capability, so always look at whether USB-C supports fast charging or not. 
Size and Weight :
The lightweight machine is easy to hold for an extended period compared to its bulky counterpart. And also easy to move where you go, which is best for those who are regularly on the move.
So before buying must look overall weight and size of the machine, whether it is comfortable to hold in your hand without hurting the wrist and easy to move around your workplace. 
Stroke Length:
Most wireless machines have 3.5mm and 4 mm stroke lengths. And 3.5mm is a medium stroke length, perfect for beginners and the best for colour packing and blending.
At the same time, 4mm has an excellent stroke length that provides enough momentum for ink. However, it depends on you which is suitable for you. 
Conclusion:
Many tattoo artists are switching from wired to wireless tattoo machines. Because these devices are excellent in terms of portability and have some other great benefits, like they're flexible, lightweight, efficient, and have excellent battery performance.
But there are so many different models in the market; therefore, it is hard to choose the perfect one. However, I hope this list helps you to find the best wireless tattoo machine. 
Dragonhawk 1013-10 are Hawick Rotary are two great examples of affordable tattooing machines. Both come with essential features like a lightweight design and excellent gripping.
While Mast Archer, SAIKOYA, and Hawick have excellent battery life. Additionally, they've some other great features like LED display, adjustable voltage, highly reliable motor, best performer stroke length, and smooth and lightweight design.
Ultimately, it depends on you which is perfect to meet your needs.