5 Best Coil Tattoo Machines for Beginners and Expert
When it comes to tattooing machines, there are many options, such as coil, rotary, and pneumatic, which help make the inking process smooth and efficient.
But Rotary machines are the most preferred tool among tattoo experts to achieve professional results due to their versatile features.
However, despite the rise in popularity of rotary and pneumatic machines. Many tattoo artists still prefer coil tattoo machines for body art.
Because the best Coil Tattoo Machine is known for its reliability, power, and ability to create crisp, clean lines and solid fills in designs.
Additionally, these machines are known for their reliability and consistency – an important factor for any tattoo artist.
So whether you prefer a traditional single-coil design machine or a more modern stacked configuration, there are plenty of options available on the market.
It's also important to consider the materials used in construction. Steel or aluminium frames are highly durable, and lightweight, which can bring added comfort during long tattoo sessions.
Therefore, this article will help you to find the finest one. And with careful research and thoughtful consideration of your preferences.
I, with a team of experts, have selected the best Coil Tattoo Machines, which can take your tattoo artistry to new heights. So keep reading.
Best Coil Tattoo Machines Review
1 Solong Pro Machine with Guns 54
What if you get everything you need to start tattooing work along a machine at an affordable price point? Then grab Solong Pro Machine that comes with a decent quality starter kit.
And kit supplies include 54 color ink bottles, power supply, needles, grip, clip cord, grommets, foot pedals, and many more; super great for future artists to start artwork most cheaply.
Besides this, the Kit contains four carbon steel tattoo guns for deep skin penetration to create long-lasting vibrant color, perfect for lining and shading work.
Plus, there is a set of 54 color bottles for practice skin. But still, these guns are not suitable for professional artwork, and also ink is not worth trying and needs to improve quality.
Furthermore, it comes with the best tattoo power supply box consisting of a power cable, clip cord, and foot pedal. And power cables are reliable and powerful to provide adjustable, stable voltage.
So, if you're just a beginner and don't know how to get started with this tattoo machine, then there is an official online video guide from the brand.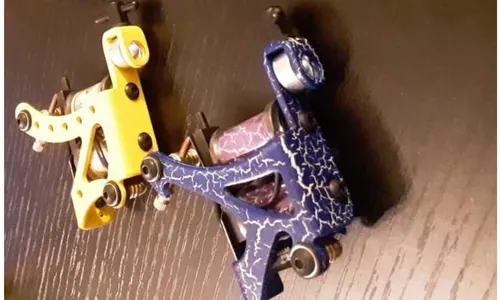 Final Verdict: Solong Pro Machine is the best budget tattoo machine for beginners with a complete supply kit.
Reason to Buy:
Decent supply kit
Good price point
4 Guns
Complete how to use guide
Easy to set up
Super great for newbie
Reason to Avoid:
Ink is not good for professional work
2 Dragonhawk Brass Coils Tattoo Machine
Dragonhawk is always best for producing quality tattoo tools at a reasonable price. And this statement is true when it comes to Dragonhawk Brass Coils Tattoo Machine.
Because it is packed with many quality features to get started tattooing art with coils.
This machine is designed to deliver some quality lining and shading work. And in our testing, the liner gave some excellent results that were very fast and clean to draw crisp lines. At the same time, the shader was also soft and clean when hitting.
This ergonomically designed coil gun is lighter in weight, 257gm for the liner and 300gm for the shader, and comfortable to hold in hand steadily. But its setup is a little tricky compared to other coil machines.
Furthermore, it is made with a solid CNC brass frame in brown, ensuring high tensile strength and stability. Additionally, this product is highly stable and durable.
But, there is another unique thing that will keep your mind at peace, and that is the warranty. Yes, Dragonhawk Brass offers a lifetime warranty with excellent customer service.
Keeping these factors in mind, I can say this is the best tattoo machine.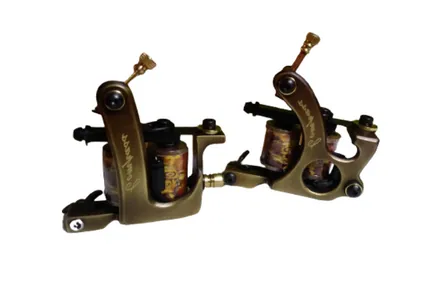 Final Verdict: Although it is not a pro-level machine, it is still excellent for beginners at an economical price with a lifetime warranty.
Reason to Buy:
Ergonomic design
Beautiful appearance
Economical price
Excellent for lining and shading
Durable and solid construction
Excellent warranty
Good machine for the price
Reason to Avoid:
Not pro level machine
Noisy in operation
Little tricky setup
3 Grinder Tattoo Machine Gun
The grinder coil Tattoo Machine is the best tattoo machine for some solid reasons. For example, it is built with high-quality material that will last longer.
And also has some premium quality accessories such as a strong motor, LCD, green soap, 50 Needles, Grips, Ink, Practice Skin, an Ink Cup Holder, and many more.
In other words, it comes with a good starter kit, and you can start working directly instead of buying separately.
The four tattoo coil guns are of decent quality and suitable for any tattooing artwork. But you've to adjust the gun manually for lining and shading. Plus, there are seven bottles of Tattoo Ink.
However, the ink is not of decent quality and this ink will quickly fade up. But still, it is great to practice on fake skin to get some experience before becoming a professional artist.
And also this ink is easy to remove from tattoos. Or in other cases, you can use this ink for a temporary tattoo.
Although the power supply kit is basic, it can still provide needed power smoothly. Plus, there are ten wrap coils to deliver stable output.
So with this power supply, this tattoo machine will be stable in performance for long hours. But still, I wish they should upgrade the power supply. Moreover, with an LCD, you can easily read the output.
Furthermore, from a construction point of view, the machine is durable and strong and will last many years without any wear and tear.
Additionally, it is pretty lightweight to hold steady without trying out hands.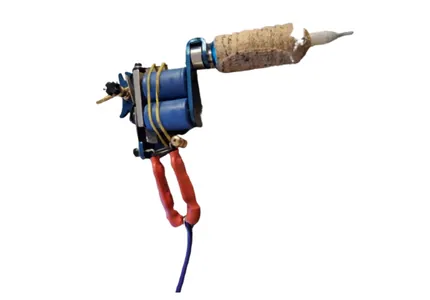 Final Verdict: Grinder by Pirate Face Tattoo is the best coil liner tattoo machine for beginners and experts.
Reason to Buy:
Easy to get started
Lightweight
LCD for display
Stable performance
Kit with complete stuff
Valuable investment
Reason to Avoid:
Poor quality ink
The power supply needs some upgrading
4 Tatooine tattoo kit
When you want a low-cost coil tattoo machine, you would like the device to have all basic configurations. Tatooine tools have all the necessary accessories that will fit your demands.
Like it comes with a complete kit that includes everything to get started, a great starting point for beginners and experienced artists.
Tatooine Traditional Pro is built with sturdy and long-lasting copper coil material. It has high-elastic and anti-fatigue features and also looks beautiful.
Additionally, the Kit includes two durable and stable tattoo machines for lining and shading, one for lining and one for shading.
Both of these feel lightweight and operate at minimum vibration; as a result, they are comfortable to use for a longer time without any heat problems.
Plus, machines are powerful enough to penetrate deeply into the skin to create long-lasting and vigorous tattoo art.
Besides this, it comes with a quality and durable power supply, which features an automatic protection system.
And this function automatically controls the voltage to protect the tool from sudden power failure or abnormal voltage.
Additionally, there is a decent-quality foot pedal and clip cord to adjust voltage accordingly. But, power is not stable in performance, and sometimes it stops working.
Final Verdict: Being an affordable coil machine, this tool gives great value with decent features.
Reason to Buy:
Very affordable price
Sturdy and long-lasting
Efficient for lining and shading
Two machines
Great value for money
Reason to Avoid:
5 Mast Traditional Tattoo Machine
This Handmade coil tattoo machine is from the Mast brand. And it's made up of a quality and durable Iron frame that feels Super sturdy, consistent, comfortable, and lightweight.
Its design and style look traditional, but its appearance looks beautiful. And from a functionalist perspective, it has a very solid liner and shader to give quality work.
Additionally, brass binding and contact screws smoothly penetrate the skin to produce some awesome results.
Plus, it comes with ten wrap coils and a 47uf capacitor, so you can expect some quality speed throw with a hard punch. However, speed adjustable seems a little tricky if you're a beginner.
Final Verdict: A wormhole is the best rotary tattoo machine for lining; that is lightweight and easy to operate, perfect for beginners and professionals.
And it comes with all accessories to get started tattoo job.
Reason to Buy:
Sturdy and solid build quality
Traditional but beautiful design
Lightweight and comfortable to use
Reliable working
Quality liner and shader
Reason to Avoid:
Quite difficult to adjust the speed

Which tattoo machine is best for lining?
Regarding lining work, having the right tattoo machine can make all the difference.
Dragonhawk Brass Coils is the best tattoo machine for a lining with a lightweight liner gun that provides stable and consistent performance.
And this coil tool has been tested for maximum control and power, allowing for smooth and precise lines.
Additionally, Dragonhawk Brass is perfect for both beginners and experienced tattoo artists, with adjustable tension to fit different work styles.

What's a good voltage for lining tattoos?
When lining a tattoo, the voltage you use makes all the difference. Too low of a voltage means too slow speed; too high means fast speed.
However, with fast speed, there is a risk of overworking the skin and causing damage.
So, a good range for lining is between 7v to 9v, allowing for clean, dark lines without excess trauma to the skin.

Are coil machines better than rotary?
When it comes to tattoo machines, coils and rotary have their advantages and disadvantages.
Coil machines offer greater control and accuracy, making them the preferred option for lining and shading work. And these machines also tend to be easier to maintain and repair.
However, rotary machines are lighter in weight and often considered easier to operate. Additionally, these tools offer a smoother motion quality.
Moreover, the power source also plays a main role in the overall performance of a tattoo machine; coil machines typically use 7-9 volts, while rotary machines can go as high as 12 volts.

Which tattoo machine is better for beginners – coil or rotary?
As a beginner tattoo artist, the coil tattoo machine is often considered the best choice for those just starting.
These machines offer greater control and accuracy, making it easier for beginners to master their technique. Plus, they are easy to operate and often more affordable in price.
Conclusion:
Coil tattoo machines are still popular for many tattoo artists because these machines offer more control and accuracy. And also very affordable in price.
But finding the best coil tattoo machine with all the necessary features is a little tricky. But I hope this article helped you to find the finest one.