Ambition Soldier Tattoo Machine Review – Complete Guide
Reason to Buy:
Versatile wireless tattoo machine
Premium quality design
Higher performance coreless motor
3.5mm and 4.2mm stroke length
Suitable for wide applications
Compatible with major needles
Lightweight device
2 in 1 mode
Reason to Avoid:
Bit expensive
Make extra vibration at higher voltage
Average battery life compared to other brands's wireless machines
The Ambition Soldier Tattoo Machine is a powerful and versatile wireless tattoing machine. And it has quickly become a favourite among professional tattoo artists for its durability, precision, and ease of use. 
Also, it has many great features that are perfect for an experienced tattoo artist. The Ambition Soldier's lightweight and ergonomic design makes the tattooing process comfortable and easy. 
The powerful Japan-made Coreless Motor and precision needles provide smooth and consistent lines. In other words, it is perfect for fast coloring, shading and lining. 
Last Sunday, I tested this rotary tattoo Machine to check its performance. So, in this Ambition Soldier Tattoo Machine Review, I will take a closer look at all its features to performance. Furthermore, I will also discuss everything about it.
Ambition Soldier Tattoo Machine Review
Top Features of Ambition Soldier Tattoo Machine 
Design and Construction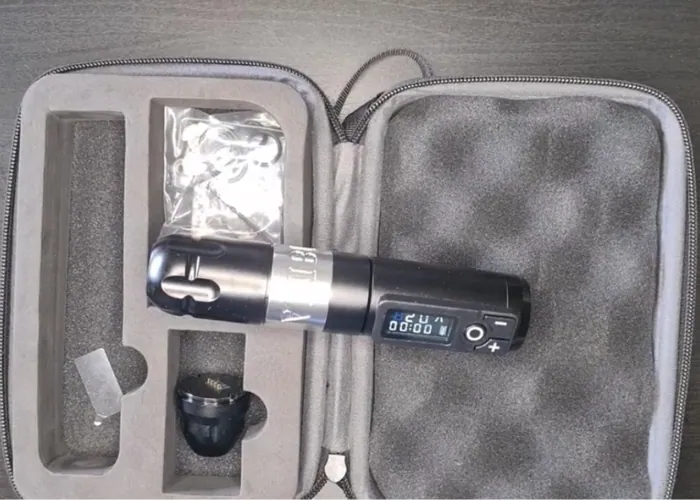 From a design and construction perspective, this is a well-balanced pen-style wireless tattoo machine. The frame of the Machine is built with an aluminium alloy frame. 
And its weight is just 210g, and the length of the curve is 148mm. It feels light from bottom to top in holding. It feels like you're holding an actual pen. 
The top component of the device feels very solid and does not twist easily like other wireless machines. Overall, Ambition Soldier is a beautiful build machine. And it has excellent curves, shape and body.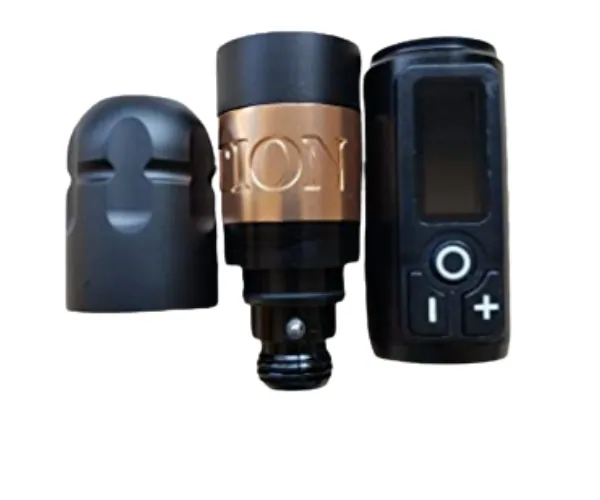 Coreless Motor and Its Operating Speed 
This Ambitious soldier is installed with a high-performance and powerful Japanese coreless motor. And the performance of this motor was observed to be reliable and consistent during the testing phase. 
However, this Machine makes extra vibration at higher voltage, which can be perceived as discomforting in holding. So, a beginner tattoo artist might feel unformattable holding it. Hence, the conclusion is that it is not a beginner-friendly tattoo machine. 
Furthermore, the voltage can be adjusted to 5 to 12 volts. In case of increasing voltage, press the plus and minus buttons. And it will go from 5v to 12v. However, the company officially recommends a voltage range between 6v to 8v.
Power Supply and Battery Performance 
Regarding wireless tattooing machines, battery timing and performance are the main things to consider. According to the advertisement, Ambition Soldier has a swappable lithium battery with a 1950mAh storage capacity. 
And it takes 1 and a half or 2 hours to charge fully and can last between 5 and 6 hours. To test the battery performance, I ran the Machine at 9.5v, which lasted more than 5 hours. 
If you don't want to run the Machine with a battery, take it off. An adapter, included in the kit, can then be installed in its place, and the Machine can be operated using a standard RCA cable.
Furthermore, a display screen shows the timing in seconds, minutes and hours and the voltage utilized. Through this, you can keep track of the timing, and at the end, you can track how many hours you used to Machine.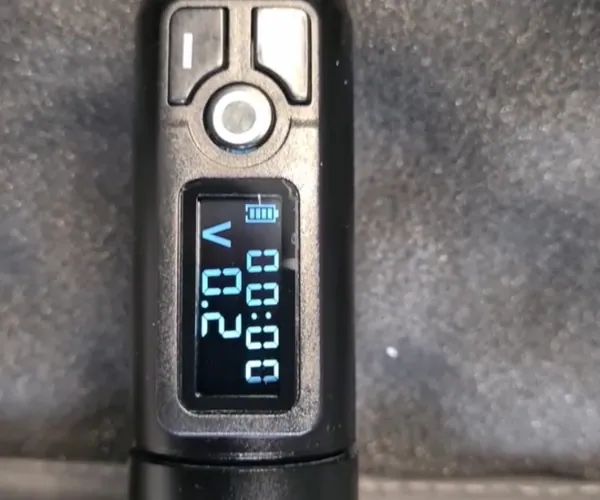 Stroke Length 
This specific rotary tattoo machine has two-stroke length options: 3.5mm and 4.5mm. Having two options for stroke length allows the user to choose the one that best suits their needs and preferences.
However, this product is available in two version, each offering a different stroke length. You must consider your required stroke length and select the model that meets your needs.
Price of Ambition Soldier Rotary Pen
Like Mast Lancer Tattoo Pen, this Machine also comes with two different variant models. With a 3.5mm stroke length, it's available for around 169$, which is more economical than the Mast Lancer Wireless machine. 
But at the same time, it's slightly higher in price than the Dragonhawk Atom M4 Pen. The Ambition Soldier Rotary Machine, with a 4.5mm stroke length, is available for around 220$. Conversely, the Mast Lancer Wireless, offering an equivalent stroke length, is priced at 205$.
Kit Accessories and Packing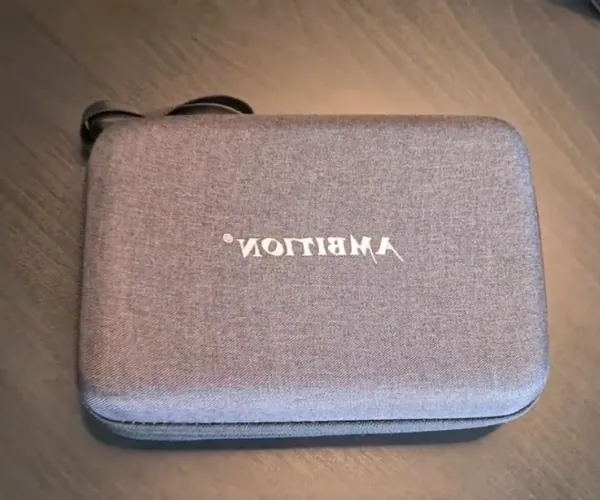 The product was beautifully packed in a nice box. Inside the box was an instructions brochure, and a piece of padding foam was found on the materials. The box includes the following:
A charging data cable.
A bag of O-rings.
A top component of the device and a pen-style tattoo machine.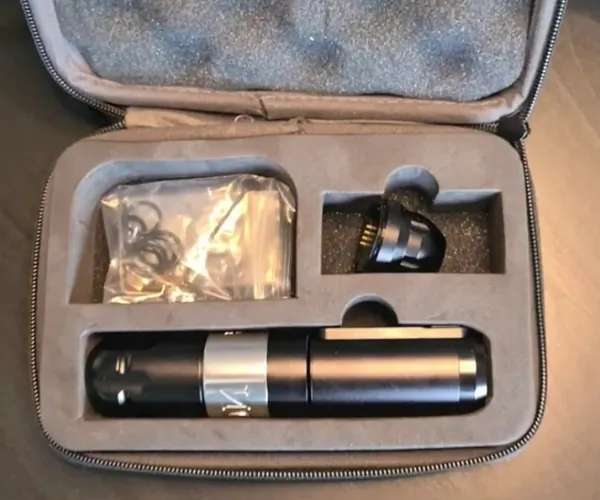 Critical View 
The Ambition Soldier is a versatile wireless tattoo machine which is excellent for different tattoo styles, including lining, shading, and color packing. And it is also equally great for permanent makeup. 
This rotary tattoo pen-style machine is a high-quality, professional-grade device. And it's made with an aluminium alloy frame, providing a lightweight feel like an actual pen.
The Ambition Soldier is installed with a top-performing Japanese motor, which is excellent for tattooing jobs. This wireless device also allows you to adjust voltage from 5 to 12.
But on higher voltage, it creates some extra vibration, which is different from my preference. 
Furthermore, its battery performance is also good, lasting up to 5 hours. But, this battery timing could be better than other top rotary machines like Mast Lancer Wireless Tattoo Machine.
In addition to the wireless mode, the device can be operated through an RCA cable.
Compared to other top tattoo machines like Solong Cartridge Tattoo, SAIKOYA Wireless Tattoo Machine and Dragonhawk Atom M4 Pen Machine, Ambition Soldier Tattoo is a bit expensive.
And there are better options for a beginner or budget-conscious artist. 
 What is more, this Machine comes in two different versions. One supports 3. mm and the other 4.5mm stroke length. But unfortunately, you need to buy separately with required stroke lengths.
And tattoo artists that want more control over lining and shading work in a single device should look other like FK Irons Flux Max. 

Can I use this for permanent makeup?
Yes, you can use it for makeup and other wide applications. 

Is the needle depth adjustable?
The Ambition Soldier Tattoo Machine allows adjusting needle depth. 

Is this Machine compatible with all cartridges?
This rotary pen-style machine is compatible with major brands' cartridge needles. 

Does it come with an extra grip?
No, it does not come with extra gripping, you've to buy them separately. 

Does it have an RCA adapter?
Yes, it includes an RCA adapter.