Is Fusion Tattoo Ink Good? [Fusion Tattoo Ink Review 2023]
Tattoo ink is potentially a permanent mark on a person's body. So the quality of the ink used is crucial to ensure that the tattoo looks great for years to come. With that in mind, we will be doing a Fusion tattoo ink review today.
Fusion Tattoo Ink, with its superior pigment load, organic and vegan-safe formulation, and lack of fillers stands out as a top choice among professional tattoo artists. While there are some downsides, the benefits of this ink far outweigh the negatives. With over 100 different color options available, Fusion provides a wide range of options for artists to choose from.
In the upcoming sections, we have discussed all the pros and cons of the tattoo ink brand. 
Fusion Tattoo Ink Brand Overview
Fusion Tattoo Ink is a brand that has made a significant impact on the tattoo industry since its inception. The brand was born from a collaboration between Adam Everett (an ex-tattoo artist) and Next Generation Tattoo Machines, both of whom have a rich history in the tattoo industry.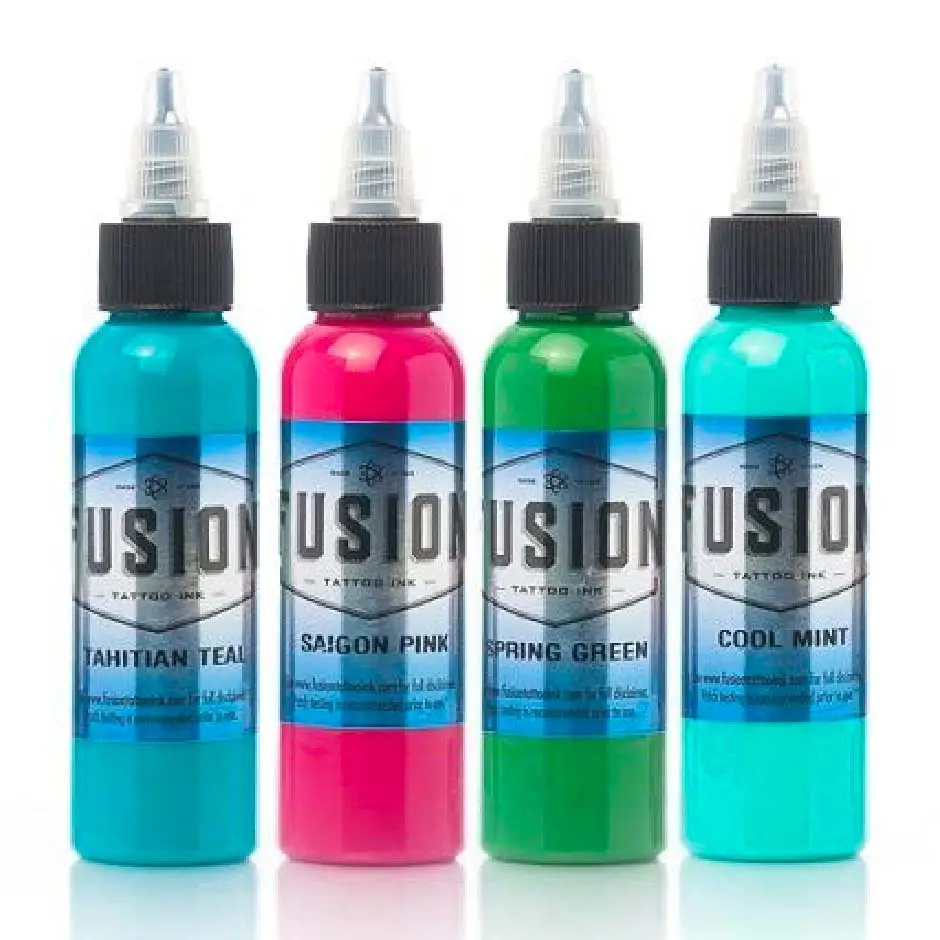 Adam Everett has been producing pigments since 1995, and Next Generation Tattoo Machines have been building machines and tattooing since 1991. Together, they have created a line of tattoo inks that stands out in terms of quality, brightness, and ease of use.
Fusion Ink has garnered a reputation as one of the best tattoo inks on the market today alongside other top brands like Kuro Sumi. Many of the top tattoo artists in the world use Fusion Ink, and their work is a testament to the quality of the product.
The artists also have co-produced their signature color sets with Fusion. Renowned artists like Kirsten Pettitt, Rick Walters, and Roman Abrego have backed up Fusion's reputation.
Fusion Tattoo Ink Review: Why Should You Use It?
As we have told you before, Fusion tattoo ink is popular among many professional tattoo artists. But, why is that?  Let's discuss all the reasons why you should be using Fusion tattoo ink!
Color Options:
Fusion Ink offers a wide range of color options with over 100 different shades available on its website. This allows you to choose from a diverse selection of colors to create the perfect tattoo for your clients. In addition to individual colors, Fusion Ink also offers sets and combos of different colors, making it easy for artists to build their own custom palettes.
Furthermore, Fusion Ink collaborates with 12 renowned tattoo artists to offer unique color sets curated by each artist. 
Higher Pigment Load:
When it comes to tattoo inks, the pigment load is a crucial factor that affects the overall quality and longevity of the tattoo. Pigment load refers to the amount of pigment that is present in the ink, and a higher pigment load generally results in a more vibrant and long-lasting tattoo.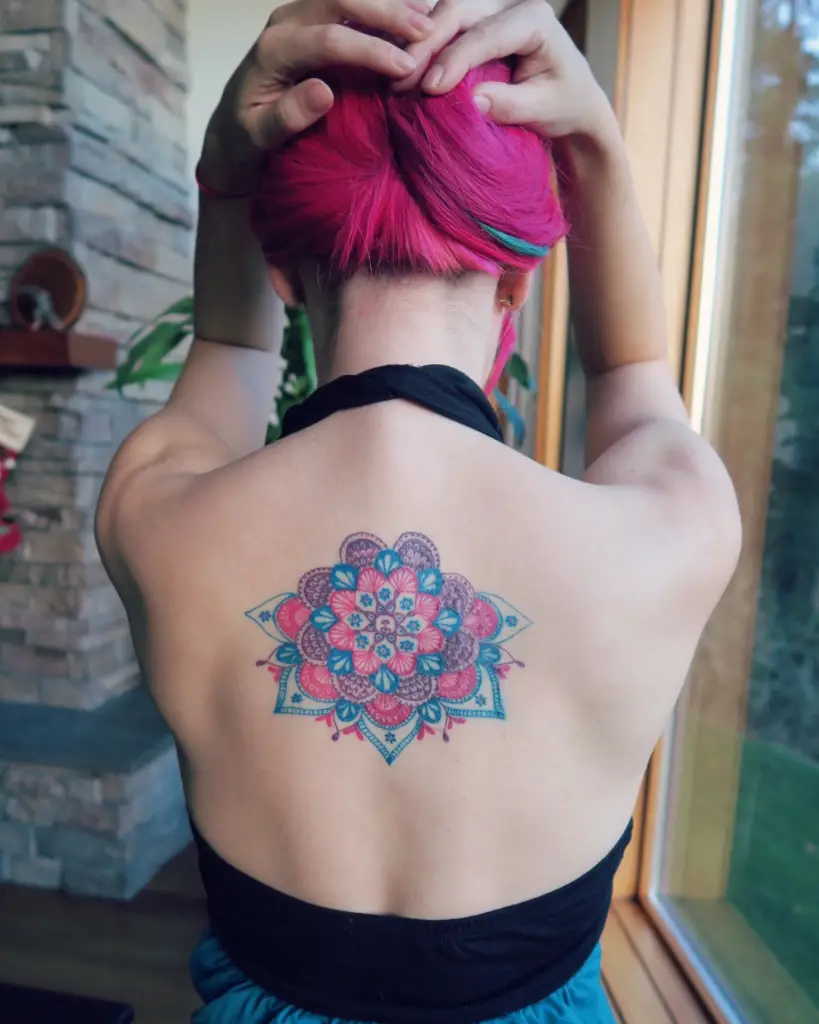 Fusion Ink is known for its superior pigment load, which sets it apart from other tattoo inks on the market. The high pigment load of Fusion Ink means that the colors are more vivid and saturated. As a result, the tattoo seems to be popping up and catching the eye. The ink also has a consistent viscosity, which makes it easy to work with and ensures that the pigment is evenly distributed throughout the tattoo.
Organic and Vegan:
If you're someone who values organic and vegan-friendly products, then you'll be happy to know that Fusion Ink is made from organic pigments. This makes the product completely safe for vegans. 
This is a significant point of concern for many tattoo artists and their clients. That's because they are only comfortable with using products that are free from animal-derived ingredients. Using non-organic colors can make your skin yellowish around the tattoo.
This is also an important aspect for those who are sensitive to chemicals and prefer to use more natural products. The organic ingredients make the ink less harsh on the skin, resulting in a more comfortable and less painful tattoo experience.
Fusion ink ingredients include organic color pigments like CI 56110, CI 77891, CI 74265, CI17757, water, glycerine, witch hazel, and Isopropyl alcohol.
No Use of Fillers:
In contrast to typical tattoo inks, Fusion Ink contains no fillers. This means that the pigment in the ink is more concentrated, allowing it to flow smoothly and evenly during the application process. As a result, you can create precise lines and details with ease. 
Additionally, the lack of fillers means that the ink will maintain its brightness and vibrancy for a longer period of time. In this way, the tattoo will look just as good decades from now as it did when it was first designed.
Durability:
Fusion Ink is a great option for anyone who wants a tattoo that will stand the test of time. The higher pigment load and lack of fillers mean that the ink will remain bright and vibrant for longer than other inks on the market. This is particularly important for tattoos that feature intricate designs or small details that can fade quickly with inferior inks.
The long-lasting nature of Fusion Ink also means that you won't need to get touch-ups as often. The benefits of doing this can be long-term savings both in terms of time and money. Also, reduce the risk of infection and other complications that can arise from repeated tattooing sessions.
Certifications:
Fusion Tattoo Ink prides itself on using only the finest materials and chemical-free substances in all of its tattoo inks. To further ensure the safety of its products, the company has all of its inks certified by CTL GmbH. This is an independent testing and certification organization based in Germany.
By obtaining certification from CTL GmbH, Fusion Ink demonstrates its commitment to using safe ingredients and producing high-quality tattoo inks that are both effective and safe for use on the skin. 
This is particularly important for those who are concerned about the potential risks associated with tattooing, including infections, allergic reactions, and other complications.
The Downsides of Using Fusion Tattoo Ink
There is always another side to the coin and in case of the this ink brand, it's no different.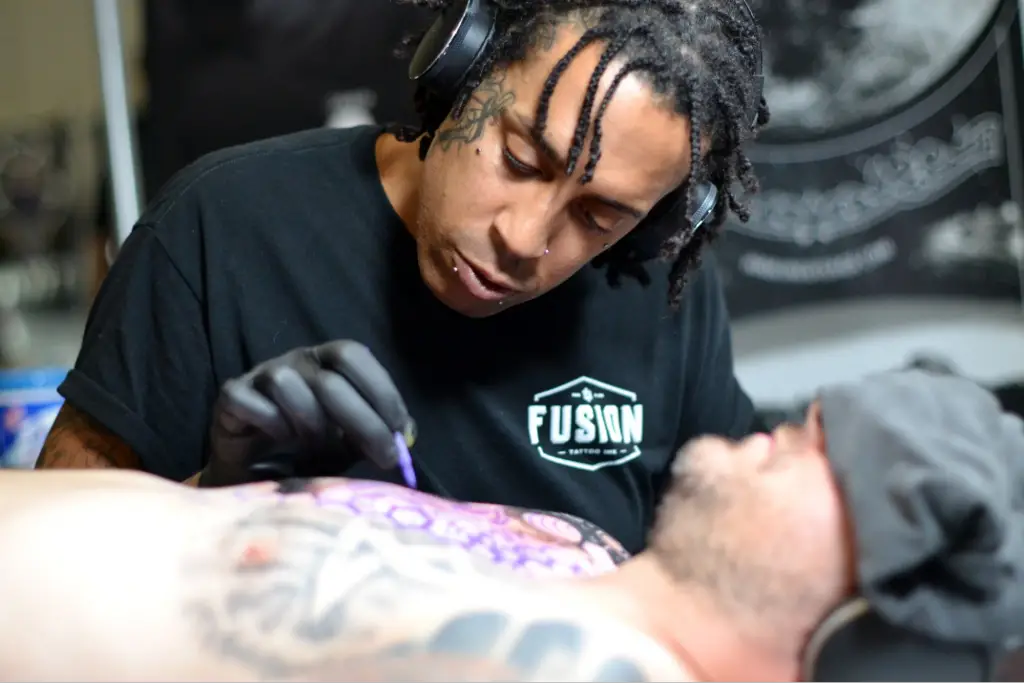 No Return Policy:
Fusion does not have a return or refund policy, so once you buy it stays with you. As far as the downside of using Fusion is concerned, this is probably one of the biggest ones. When purchasing tattoo ink, it's crucial to be able to try it out and see how it works for your needs. 
Sometimes, certain inks may not work well for some tattoo artists or may not meet their expectations, and they may want to return the product for a refund or exchange.
However, with Fusion Ink, this is not possible. Once you purchase the ink, it's yours to keep, even if you're not satisfied with the product. This can be a major concern for tattoo artists and clients who want to make sure they are getting the best product for their money.
Exclusivity:
Fusion only ships to verified tattoo shops, if you do not have a tattoo shop you cannot purchase from them. Fusion Ink is exclusively sold to verified tattoo shops and artists.
So, if you are trying to become a tattoo artist in your 40s, you cannot buy Fusion tattoo ink until you have your own store.
To sustain this exclusiveness, they also do not sell their products on Amazon or such e-commerce platforms.
While this exclusivity may be a drawback for some, it is also an indication of the brand's commitment to maintaining high-quality standards for its products. 
Frequently Asked Questions (FAQs):
Does tattoo ink quality matter?
Yes, tattoo ink quality is very important for several reasons. First and foremost, the quality of the ink will have a direct impact on the overall look and longevity of the tattoo. High-quality inks, such as Fusion Tattoo Ink, are designed to be highly pigmented, which means that they will produce more vibrant and long-lasting colors.
How do I find the best tattoo ink?
To find the best tattoo ink, consider factors such as color options, ethical formulation, consistency, flow rate, pre-dispersed versus stable pigments, and price. Look for reputable brands with good reviews and high-quality ingredients.
What does cheap tattoo ink do?
Using cheap ink can increase the risk of allergies, inflammation, infection, and other skin problems. Cheap inks are also more likely to fade or change color over time, resulting in a less attractive and less durable tattoo.
Conclusion
With this, we end our Fusion tattoo ink review. With a high pigment load, organic and vegan-safe ingredients, and long-lasting color, Fusion Ink is an excellent choice for you.
While there are some downsides, overall, Fusion Ink's commitment to quality and innovation has made it a top choice for tattoo artists worldwide.