Mast Lancer Tattoo Machine Review
Reason to Buy:
High precision
Durable construction
Low noise
3.5mm and 4.2mm stroke length
Premium quality ergonomic design
Compatible with major needles and cartridges
Low noise and vibration-free tattooing operation
Two rechargeable batteries
Longer battery life
Reason to Avoid:
Little bit heavy
The price is a little bit higher
Speed performance is not consistent
Thick grip
Mast Lancer is a premium quality pen-style wireless tattoo machine, which is perfect for professional tattoo artists. A tattoo artist can use its versatile features for wide tattooing applications. 
 It has premium quality features, durable construction, and a smooth design. All these things together make it a perfect choice for artists looking to take their tattooing skills to the next level. 
Furthermore, this machine promises a longer battery performance. It also installed a custom Mast coreless powerful motor that seems durable and highly reliable.  
Last week, I put Mast Lancer Tattoo and its other kit accessories to the test.  
So, in this Mast Lancer Tattoo machine review, I'll share my tested review about its features and performance. And this review will help you to determine if it's the right choice for your tattooing needs.
Mast Lancer Tattoo Machine Review
My Unboxing Experienced
Mast Lancer Tattoo comes in beautiful packing and product boxing. Upon opening the packing, there were three 1205rs cartridges needle boxes and an actual product box.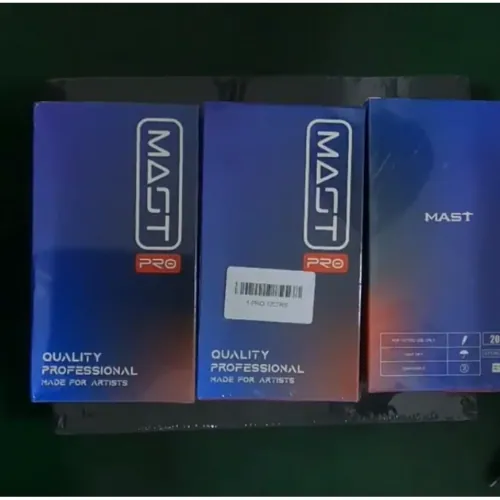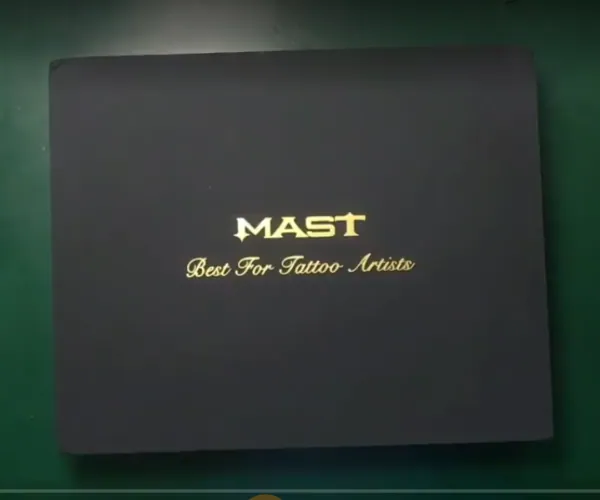 And inside that product box, there was a pen-style machine, an extra replaceable battery, an individual battery charger, charging cables and two extra grips.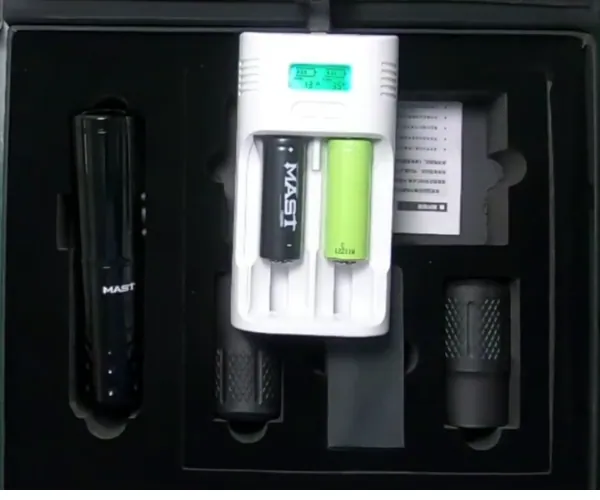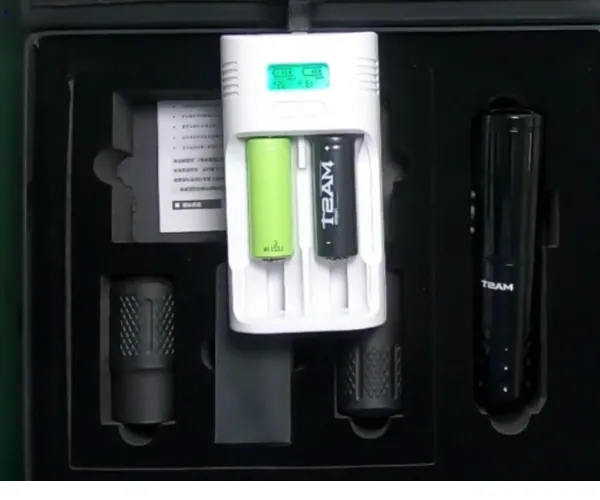 Design and Construction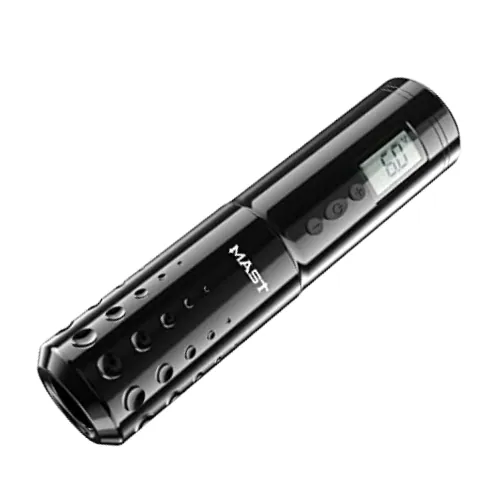 Mast Lancer Tattoo is a well-balanced machine and can fit nicely in your hand. However, this pen-style wireless tattooing machine has the thickest grip, which can cause discomfort and hand fatigue in long tattooing sessions. 
However, it comes with two extra grips. And tattoo artists can use these grips to change how the machine feels in hand. In the end, it will help the artist achieve a more comfortable and stable grip while working.
Furthermore, the weight of a Mast Lancer is 158 grams or 5.5 ounces. And it's a little heavier than most other wireless machines I've ever tried, like the bishop wand liner and Axys Valhalla Rotary Pen. 
From a design and weight perspective, this machine may be suitable for individuals who prefer a heavier machine. However, I like a lightweight tattoo machine, as it is easier for me to maintain a steady grip.
LED Display Screen 
On the side of the machine is an LED digital display screen that will show you the battery percentage and current-voltage being used. I found that the LED screen's display was crisp and clear during my testing. Additionally, there is no scratch or any other defect on display.
Longer Battery with 1900mAh Storage Capacity 
In a testing session, I charged the battery 100% and continuously performed the tattooing operation for 4 hours. And its battery percentage dropped 82% from 100 after 4 hours of continued use.
  Even I adjusted the operating voltage to a higher level(12), and the result was the same after 4 hours. So, it means Mast Lancer has excellent battery timing. 
Furthermore, Mast Lancer comes with two rechargeable batteries and a charging cable. If you want to change the battery, unscrew the upper portion of the device and proceed with the replacement.
I need to mention; Mast Lancer provides additional exceptional features related to its battery. Specifically, it features built-in protection against overcharging and short-circuiting.
Custom Motor with 10500RM Speed 
The Mast Lancer tattoo machine is equipped with a custom coreless motor. And this motor is capable of operating at a speed of 10,500RPM on a 12-volt power supply.
 Also, this pen-style rotary tattoo machine is fully quiet and vibration free, which is a nice thing to keep working with low noise.  Furthermore, the Mast Lancer offers full control over the voltage input, which is my favourite feature. 
Unlike other wireless tattooing machines, the Mast Lancer allows you to make precise adjustments to the voltage. It means you can increase or decrease the voltage by half a volt at a time. 
This level of voltage adjustment is not supported in other tattooing devices, which typically only allow for more general adjustments to the voltage input. 
Moreover, voltage is adjustable between 5 to 12v. However, the recommended operating voltage is from 6v to 10v for best performance. 
Stroke Length 
This is my favourite part of any tattooing machine, which means the supported stroke length of the device. And when it comes to Mast Lancer, it has a 3.5mm stroke length.
This stroke length is excellent for every tattooing work, like colour packing and shading. In other words, a 3.5mm Length is suitable for performing some of everything. But, the 3.5mm stroke is only suitable for shading but not for the lining. 
However, Mast Lancer is also available with a 4.2mm stroke length; you need to spend a few more bucks. 
Furthermore, Mast Lancer's pen is compatible with all major cartridge needles. And you can perform various tattooing tasks with this single machine. So this single piece of device is enough for everything related to body artwork. 
Price 
The Mast Lancer Tattoo machine's price is slightly higher than most wireless machines on the market. For example, other top brands like Ambition Soldier, HAWINK, SAIKOYA and Dragonhawk Atom Rotary Pen provide almost the same features at affordable prices.
So, from a price perspective, this is not a cheap tattoo machine. But still, it's an excellent machine with premium quality stuff at such a price point.
  Mast Lancer is available for around 200$ with three different color variants, black, green, and blue. Also, it's available with a 4.2mm stroke length at a little bit higher price (around 206 $). 
Note: Please visit any online store for the latest price.
Final Critical View:
The Mast Lancer Tattoo machine is a premium quality wireless machine. And it's packed with many great features that are needed for tattooing work. 
It offers two models with 3.5mm and 4.2mm stroke lengths, which work great for lining and shading. It's also compatible with all cartridge needles to achieve anything.
A high-performance custom Coreless Motor has been installed, which operates quietly and with minimal vibration. And operating voltage range from 5v to 12v.
Furthermore, Mast Lancer Tattoo has excellent battery performance, lasting up to 12 hours. Plus, it also comes with one extra replaceable battery. This machine also has a clear LED display showing the remaining battery and working voltage. 
No doubt this wireless machine is perfect. However, it is essential to note that every product has flaws. In my testing, I noticed some flaws in Mast Lancer.
For example, this machine was heavier than I'd ever tried. Also, the price of Mast Lancer is higher than most other wireless tattoo machines available in the market. 
Furthermore, the grip of this machine is very thick, which I don't particularly appreciate because it causes discomfort and hand fatigue. So, I don't recommend this tattoo machine for beginners.
Although, the Speed and performance of the device were excellent. But after a few days of regular use, I noticed Speed started slowing.